Village Development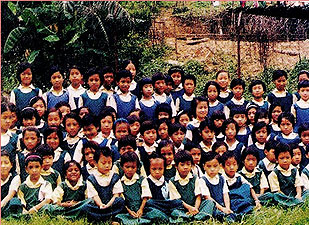 Students from Village School
Educational Activities
In 1979, at the request of the village elders and the local people, Sunday classes were started for Khonsa Basti children. The classes were aimed at imparting elementary knowledge in health & hygiene, apart from coaching in regular curriculum.
These classes were gradually shaped into a full-fledged primary school from Pre-I to Class V. Performance of its children in the Arunachal Board Examination has been quite outstanding.
The school counted 99 and 103 children on its roll in 2003-2004 and 2004-2005 respectively.
The school is run under the guidance of an honorary principal and a dedicated teacher and six others of whom three are alumni of the Mission and belong to Khonsa village. The school renders valuable service to the area.
Apart from the main school, a primary school is run exclusively for the children of the neighbouring villages popularly known as the 'Green school'. They are day-scholars and undergo a similar education system. Children are encouraged in all the activities like the main school.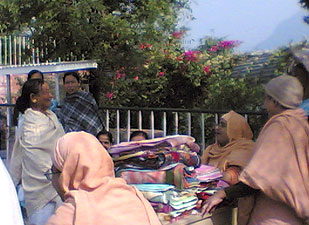 Distribution of clothes
Philanthropic Activities
In keeping with the ideals of the Mission, whenever any calamity (e.g. fire, general unrest etc.) strikes the surrounding villages, workers rush to the spot to give the necessary relief. It started in a small scale in 1979. Food, clothing, trunks etc. were distributed in the distressed families of Kaimai and Kheti village whose homes had been gutted down in a devastating fire. In 1981-82 fire-disaster victims of three villages (Nianu, Chinhan, Dadam) were rendered necessary financial help and other benefits