Genesis
Nearly three decades after independence, Arunachal Pradesh virtually remained a backwater untouched by the march of progress and civilization. It was in the year 1972, that inspired by the visionary zeal of Sri K.A.A. Raja of the A.P. administration approached the Ramakrishna Sarada Mission authorities to open an educational centre to disseminate knowledge and culture, to raise the status of the tribal women of Arunachal Pradesh and to improve their standard of living.
Ramakrishna Sarada Mission, Khonsa has travelled a long way since it began its journey 38 years ago. It would be difficult to catalogue the dramatic transformation that has occurred in this area by the magic word 'education'.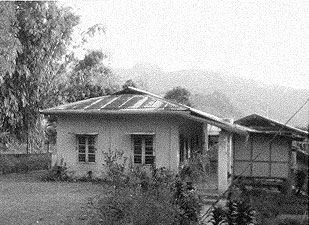 The School was formally inaugurated on the 17th February 1973 and was declared open by Sm. Indira Gandhi, the Prime Minister on the 19th November 1976. With an initial enrolment of 58 students in 1973, in three classes Preparatory, Class I & II, the school has now blossomed into a full-fledged residential school mainly catering to the all-round development of the tribal girl students of Arunachal Pradesh. The school is affiliated to CBSE, New Delhi, and follows the 10+2 pattern of education.
The Institution stands today on a sprawling campus of 30.58 acres campus nestled in the Patkai ranges of the Himalayas at a height of about 3500 ft. above sea level, overlooking the lush green fields and forest. The campus accommodates in perfect alignment the hostel block with 7 hostels (which accommodates nearly 300 boarders), Dining Hall, auditorium, staff quarters and towering above all and standing like a sentinel – the Prayer Hall and a little away the school block adjacent to the orchard.